About THE CLEAR QURAN® Series
Officially Approved and Endorsed By
The first translation of the Quran into English was done in 1649 by Alexander Ross. Since that first translation, many more attempts have been made to penetrate the work from an outside, academic point of view… READ MORE
Dr. Mustafa Khattab is a Canadian-Egyptian authority on interpreting the Quran. He was a member of the first team that translated the Ramadan night prayers (Tarawîḥ) live from the Sacred Mosque in Mecca and the Prophet's Mosque in Medina (2002-2005). Dr. Khattab memorized the entire Quran at a young age, and later obtained a professional ijâzah in the Ḥafṣ style of recitation with a chain of narrators going all the way to Prophet Muḥammad (S). He received his Ph.D., M.A., and B.A. in Islamic Studies in English with Honors from Al-Azhar University's Faculty of Languages & Translation. He lectured on Islam at Clemson University (OLLI Program, 2009-2010), held the position of a lecturer at Al-Azhar University for over a decade starting in 2003, and served as the Muslim Chaplain at Brock University (2014-2016). He is a member of the Canadian Council of Imams and a Fulbright Interfaith Scholar. He has served as an Imam in the U.S.A. and Canada since 2007 and is the author of The Nation of Islam (2011) and Outfoxing Fox News (2017), and a contributor to the Encyclopedia of Muslim American History (2010). He has also written The Clear Quran® Series Dictionary, The Clear Quran® for Kids, and Shukran, the Grateful Young Man.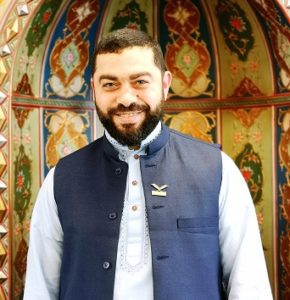 BOOKS AVAILABLE IN UNITED STATES AND CANADA
Thousands of hours have been put into this work over the last few years to guarantee accuracy, clarity, eloquence, and flow. To achieve accuracy, the translator has made use of the greatest and most celebrated works of old and modern tafsir (Quran commentaries), and shared the work with several Imams in North America for feedback and insight. For clarity, every effort has been made to select easy to understand words and phrases that reflect the beauty, flow, and power of the original text. Along with informative footnotes and surah (chapter) introductions, verses have been grouped and titled based on their themes for a better understanding of the chapters, their main concepts, and internal coherence. Thanks to our dedicated team of scholars, editors, and proofreaders, we believe that what you are holding in your hands now is the finest translation of the Final Revelation.
PARALLEL EDITION: ENGLISH WITH ARABIC TEXT
HIFZ EDITION: ENGLISH WITH ARABIC TEXT
JUZ SET/JUZ EDITION: ENGLISH WITH ARABIC TEXT
KIDS EDITION, DICTIONARY, & STUDENT JOURNAL
GLOBAL PUBLISHERS OF THE CLEAR QURAN® Series
DIVISIONS OF AL-FURQAAN FOUNDATION
THE CLEAR QURAN® Series APPS

Sara
As a native English speaker with Arabic background, this is the best English translation I have ever read. English translations can be dangerous and have subtle implications, but this is pretty on point and very purposeful in its translation, and flows very well too! If you are a native English speaker or need a translation for dawaa, this is the one insha'Allah!!

Fadel Soliman
"The Clear Quran translation is easy to understand for the clarity & eloquence. Each paragraphs title helps to get the overall meaning & original purpose of the revelation. So it helps to get the background & understand even for the first time readers of the Quran(translation). To my knowledge this is the best English translation of the Quran."

Anonymous
Finally I got a copy of what I believe to be the best translation of the Quran so far- modern clear English with a deep understanding of the word of God MashaAllah, translated by Dr. Khattab. For info about the translation and where you can buy/read it, visit www.theclearquran.com
Kindle edition is available through Amazon