THE CLEAR QURAN® Series – Juz Set/Juz Editions: Arabic with English
Our Juz Editions follow the Hifz Edition Format. It is split in 30 books, a Juz each, making it the perfect addition to a costumer's home for their family to read from. Also ideal for Masajid and Hifz schools. The 30th Juz/para is available individually since it is thought in many schools. It is
available in different scripts.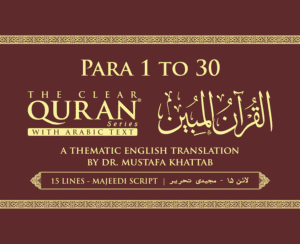 Majeedi 
English with Arabic / Hardcover
ISBN: 9781949505108
Page Count: 
Dimensions: 9.8″ x 12″ x 7.7″
Retail: US $149
Box Pricing:
3 Sets: 20% Discount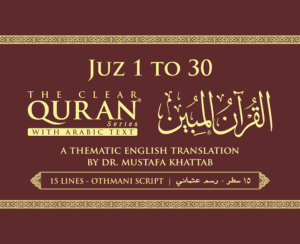 Othmani
English with Arabic / Hardcover
ISBN: 9781949505085
Page Count: 
Dimensions: 9.8″ x 12″ x 7.7″
Retail: US $149
Box Pricing:
3 Sets: 20% Discount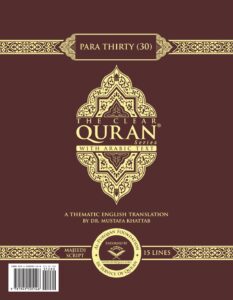 Majeedi 
English with Arabic / Hardcover
ISBN: 9781949505146
Page Count: 
Dimensions: 7.5″ x 9.6″ x 0.35″
Retail: US $12.99
Box Pricing:
Discount: 20%
Min. Qty: 24
Case Dimensions: 9.84″ x 17.5″ x 6.46″
Price: US $10.42/copy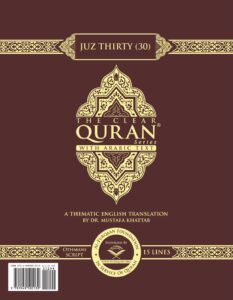 Othmani
English with Arabic / Hardcover
ISBN: 9781949505139
Page Count: 
Dimensions: 7.5″ x 9.6″ x 0.35″
Retail = US $12.99
Box Pricing:
Discount: 20%
Min. Qty: 24
Case Dimensions: 9.84″ x 17.5″ x 6.46″
Price: US $10.42/copy