THE CLEAR QURAN® Series – Parallel Edition: English with Arabic
The Parallel Edition allows the reader to read the same great translation but with the Arabic Text. The English translation and the Arabic correlate
perfectly, side by side. It also uses Allah instead of God (as used in the English Only/Dawah editions).
English with Arabic / Soft Cover
ISBN: 9780980246971
Page Count: 592
Dimensions: 5.50" x 8.50" x 1.38"
Retail: US $11.95
Box Pricing:
Discount: 20%
Min. Qty: 20
Case Dimensions: 11.75" x 9.5" x 14"
Price: US $9.5/copy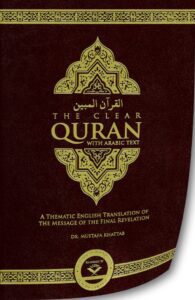 English with Arabic / Flexi Cover
ISBN: 9780980246957
Page Count: 592
Dimensions: 5.50" x 8.50" x1.38"
Retail: US $19.95
Box Pricing:
Discount: 20%
Min. Qty: 20
Case Dimensions: 11.75" x 7.50" x 9.00"
Price: US $16/copy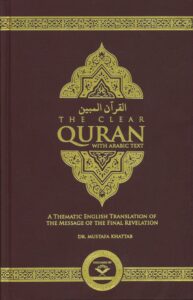 English with Arabic / Hardcover
ISBN: 9780980246964
Page Count: 592
Dimensions: 5.88" x 8.88" x 1.5"
 Retail: US $24.95
Box Pricing:
Discount: 20%
Min. Qty: 20
Case Dimensions: 12.00" x 9.5" x 9.25"
Price: US $19.95/copy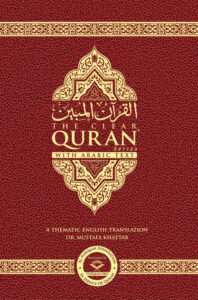 English with Arabic / Leather Bound
ISBN: 9781949505078
Page Count: 592
Dimensions: 5.88" x 8.88" x 1.5"
 Retail: US $29.95
Box Pricing:
Discount: 20%
Min. Qty: 20
Case Dimensions: 18.15 x 12.17 x 9.25
Price: US $23.95/copy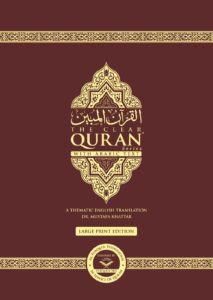 Large Print; Font Size: 16

English with Arabic / Hardcover
ISBN: 9781949505160
Page Count: 592
Dimensions: 
 Retail: US $69.99
Box Pricing:
Discount: 20%
Min. Qty: 12
Case Dimensions: –
Price: US $55.99/copy